| | |
| --- | --- |
| Hair Type | Kinky Curly Clip In Hair Extension |
| Color | Jet Black |
| Weight | 120gram |
| Extension Type | Clip In Hair Extension |
| Hair Style | Kinky Curly( It can be styled easily |
| Number Of Hair Pieces | 9 |
| Can Hair Be Died | Yes Hair Can be Died With Any Color |
| Hair Extension Life | 1 Year |
Kinky Curly Clip In Hair Extension 100% Natural Virgin Hair: Design To Make,
Your Look More Beautiful
Kinky Curly Clip In Hair Extension 100% Natural Virgin Hair
Kinky curly clip in hair extension is 100% top virgin human hair ,no chemicals ,mixed fibers and synthetic hair are added to it .These hair  extensions demand care. These hair can be easily straightened, ironed , colored , and styled. It is very comfortable to wear. Two hair colours i.e. Natural Black and burgundy hair colors can be used.
Product descripition
Thesehair areflexibleandstrong.
It isvery easily attachable
Made from virgin human hair , no chemicals areused in it.
Weight is 120g for hair length 16". It is tightest curl.
It does not cause hair shedding and tangling.
6 pieces combinations are available for both Thin and thick hair
1*10"weft with 5 clip.
1*8" weft with 4 clips.
1*6"weft with 3 clips.
2*4" weft with 2 clips.
1*2"weft with 1 clip.
Ingredients – It is made from 100% human hair.
Maintenance for kinky curly hair extensions
Kinky curly hair needs proper care
Handle the hair gently whileshampooing ,usefingertipsto do so.
Rinseandshampoo again .Then add conditioner for 4 - 5 minutes.
It's better to use acidic shampoo and conditioner.
Do not rub the hair extension hardly , use dry towel gently.
Do not expose to sun for long time .
Use comb which has round tips and ends .
Use comb with a soft hand .
Either use your fingertips to comb your hair , or use a brush to comb the hair extensions .
Benefits
These hair extensions are easily affordable.
Each hair bundle comes from one donor. Mixing of hair is not done .
No odour and split ends are there .
Proper time needs to be devoted to the hair extensions for proper care.
It increases the volume and length of the hair. These hair extensions are very smooth.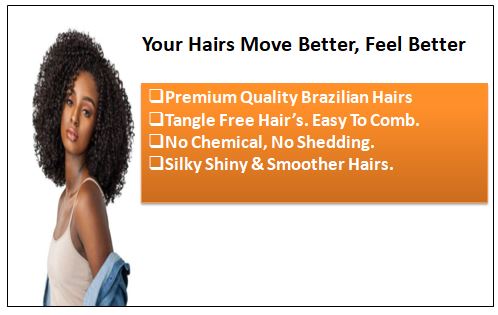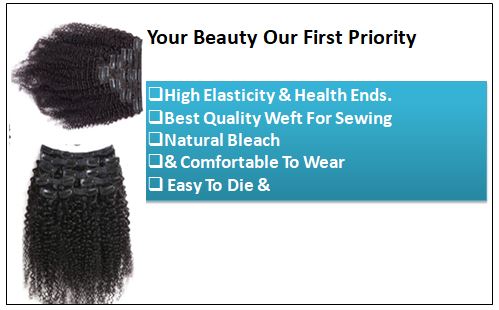 Look Good Feel Good: Clip In Extension
1. Major Highlights     

                     
100% Virgin Hairs
No Shedding & No Tangle
Bouncy Shiny & Soft
Natural and Comfortable
2. Quality Assured 
Exquisite Workmanship
Double Weaving Tight/Neat
Cut From Young Girl Donor
Minimum Short Hair
3. Our Hairs
Can be  Curled & straight
Can be die/bleach
100% washable
Easy to comb