| | |
| --- | --- |
| Hair Type | Kinky Clip In Hair Extensions |
| Color | Jet Black |
| Weight | 120gram |
| Extension Type | Clip In Hair Extension |
| Hair Style | Kinky( It can be styled easily |
| Number Of Hair Pieces | 9 |
| Can Hair Be Died | Yes Hair Can be Died With Any Color |
| Hair Extension Life | 1 Year |
Kinky Clip In 100% Virgin Human Hair Extensions: Design To Make,
Your Look More Beautiful
Kinky Clip In 100% Virgin Human Hair Extensions
Kinky Clip In 100% Virgin Human Hair Extensions are used for hair extensions in natural hair .Theseare made from 100 virgin human hair . Kinky clips in hair extensions are available in 3 different sizes ,i.e. 12inch ,16inch and20 inch. These hair extensions are soft ,dry andspongy. In texture the seareslightly curly and zig –zag in formation . Only available in natural colours i.e. natural black and dark brown. It is easy to handle ,canbewashed, coloredanddriedeasily.
Product description
Kinky clips adds length andvolumeto your natural hair.
It isvery easy to use andvery easily affordable bya customer.
They are available in 7 piece set of120 g
Kinky hair extensions can becolored, dried andflat ironed.
Weight ofkinky clip is 113.4 – 130g varying according to lengths .
These clips are machine madeand are silicone tippedmetal clips.
It contains an elasticprotection bandwhich leadsto secureplacement
What is the product benefit of kinky clips
Kinky clips when attached to your natural hairgivesan attractive look to your dull hair.
It has a dry texture that can blend easily with natural hair .
It gives full headed volume to your hair .
How to maintain kinky clips in hair extensions
Don't expose them to much heat,asit can cause damage to your hair.
Use deep conditioner . Shampoo your hair 2-3 times in aweek .
Do not useyour comb hardly .Either usea brush to comb your hair or usefingertips to do so.
Use soft towel to rinse your hair ,do not dry the hair extensions roots.
Always massage the scalp gently with your fingertips.
Followproper ways to do hair nourishment.
You can easily attach or detach these kinky clips ,when not in use. It takes just 5 minutes toattach or detach .it can be used easily in daily life .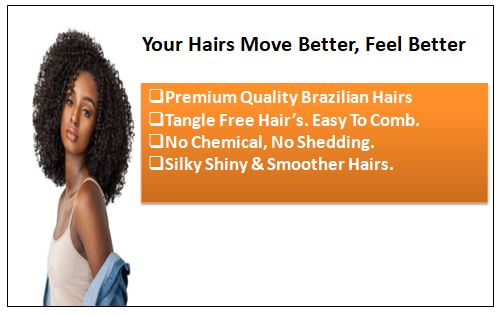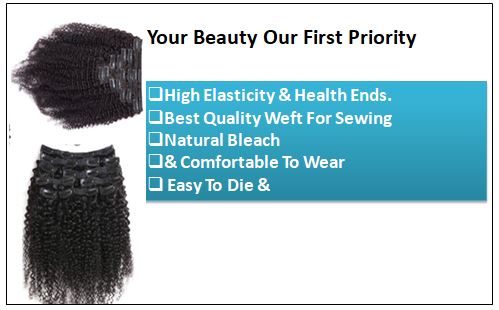 Look Good Feel Good: Clip In Extension
1. Major Highlights     

                     
100% Virgin Hairs
No Shedding & No Tangle
Bouncy Shiny & Soft
Natural and Comfortable
2. Quality Assured 
Exquisite Workmanship
Double Weaving Tight/Neat
Cut From Young Girl Donor
Minimum Short Hair
3. Our Hairs
Can be  Curled & straight
Can be die/bleach
100% washable
Easy to comb