| | |
| --- | --- |
| Hair Type | Clip in human hair extensions |
| Color | Black |
| Weight | 120gram |
| Extension Type | Clip In Hair Extension |
| Hair Style | Straight( It can be styled easily |
| Number Of Hair Pieces | 9 |
| Can Hair Be Died | Yes Hair Can be Died With Any Color |
| Hair Extension Life | 1 Year |
Clip In Human Hair Extensions For Natural Black Hair: Design To Make,
Your Look More Beautiful
Clip In Human Hair Extensions For Natural Black Hair
Human hair are tender in nature . These hairs are gathered from head of young donors in such a way that the hair cuticles are properly aligned to its neighboring hair .
These are premium quality ,pure human hairs . human hairs are soft silky , smooth and healthy in appearance .
Product description
Weight of clip in human hair extension is about120g and is around 14 -220inches long.
One pack of clip contains 7 -8 pieces .
Usually , 1 pack of clips is recommended for fine hair and 2 packs of clips for thicker hair .
It instantly adds fullness and volume to your hair and simultaneously remove the hassle of glues and tapes also .
Hair advantage of the clips in human hair extensions are they give a natural look to your hair and prevent the hair from shedding and tangling .
These natural hair ends are without cut . There is no smell of these hairs .
These hair extensions can be easily washed, blow dried, flat ironed ,bleached , curled ,dyed etc.
But , it is highly recommended not to bleach , curl ,iron your hair frequently . As it will cause damage to your hair.
How to maintain clips in human hair extensions?
Do not rub or scratch your hair .
Use a sulphate free shampoo and a conditioner. It's better to use a natural shampoo without chemicals as we all know , natural things are the best.
Do not wash your hair frequently. It's better to wash your hair once in two weeks .
Use warm or cold water to shampoo your hair .
To prevent hair from tangling , remove your hair extensions before going to bed .
Always brush your hair before and after use .
Make sure , you comb your hair only when ,they are dry .
Only light color can be dyed to dark color .
The hair extensions adds to the beauty of a person and boosts up their confidence levels.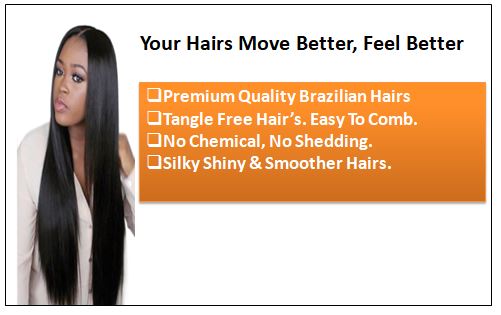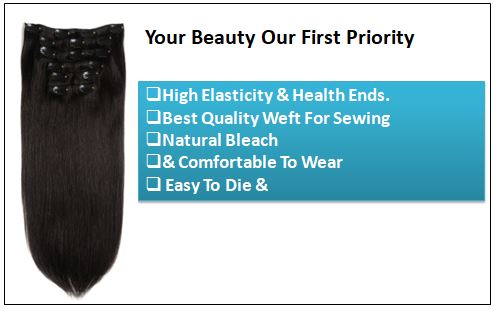 Look Good Feel Good: Clip In Extension
1. Major Highlights     

                     
100% Virgin Hairs
No Shedding & No Tangle
Bouncy Shiny & Soft
Natural and Comfortable
2. Quality Assured 
Exquisite Workmanship
Double Weaving Tight/Neat
Cut From Young Girl Donor
Minimum Short Hair
3. Our Hairs
Can be  Curled & straight
Can be die/bleach
100% washable
Easy to comb