| | |
| --- | --- |
| Hair Type | Natural Ponytails For black Hair-Nexahair Best Ponytail Hair Extension |
| Color | Jet Black |
| Weight | 120gram |
| Extension Type | Ponytail Hair Extension |
| Hair Style | Straight( It can be styled easily |
| Number Of Hair Pieces | 9 |
| Can Hair Be Died | Yes Hair Can be Died With Any Color |
| Hair Extension Life | 1 Year |
Natural Ponytails For black Hair-Nexahair Best Ponytail Hair Extension,
Your Look More Beautiful
Natural Ponytails looks sassy and perfect for any events. It gives a complete cohesive look. It is difficult to style on natural hair as it depends on length, volume and texture of hair. Another problem is overuse of hair styling tools can damage hair also.
Natural ponytails are the best way to solve this problem. As it looks stylish and fashionable, and very easy to do. Ponytail hairstyle looks decent also. Sometimes customer gets puzzle for their short hair, but ponytails can work with both long and short hair.
What are natural ponytails?
Natural ponytails look very beautiful. As it protects from hair damage and loss of moisture. It goes with every attire traditional, modern etc and looks fancy. Ponytail hairstyles perfect for black hair as it looks more prominent and perfect. This hair looks silky, shiny, smooth and soft.
This hairstyle is easy to maintain and comfortable.
The woman can have this hairstyle on daily basis.
It also protects the edges of hair.
There is a versatility of natura black hair, and this hairstyle makes the hair more gracious.
If customers want some creativity in their hair, then this hair style is the perfect solution for them.
What are the benefits of Natural Ponytail?
If customer get bored of having same hair style, then they can go for Ponytail.
Natural Ponytail have different types like wedding ponytails, casual ponytails etc.
This hairstyle can be worn in any situation.
How to maintain Natural Ponytail?
Never tie hair while it is wet.
Make sure always that that hair is dried up thoroughly.
Always put serum on hair before doing ponytail.
Sometimes, hair is pulled tightly as it is not good for hair. It causes hair breakage.
Leave the hair loose before going to bed.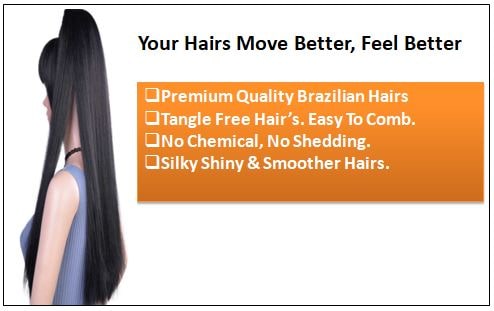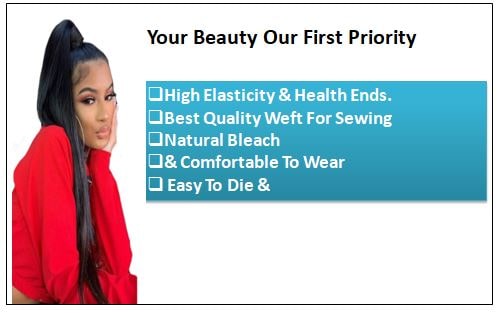 Look Good Feel Good: Natural Ponytails For black Hair
1. Major Highlights
100% Virgin Hairs
No Shedding & No Tangle
Bouncy Shiny & Soft
Natural and Comfortable
2. Quality Assured
Exquisite Workmanship
Double Weaving Tight/Neat
Cut From Young Girl Donor
Minimum Short Hair
3. Our Hairs
Can be Curled & straight
Can be die/bleach
100% washable
Easy to comb