| | |
| --- | --- |
| Hair Type | Black Ponytail Extensions-Nexahair Best Ponytail Hair Extension |
| Color | Jet Black |
| Weight | 120gram |
| Extension Type | Ponytail Hair Extension |
| Hair Style | Straight( It can be styled easily |
| Number Of Hair Pieces | 9 |
| Can Hair Be Died | Yes Hair Can be Died With Any Color |
| Hair Extension Life | 1 Year |
Black Ponytail Extensions-Nexahair Best Ponytail Hair Extension,
Your Look More Beautiful
If you want to have a long natural hair yet not ready to change your original appearance, there's nothing to worry about! You can always use hair extensions as your back up plan. Hair extensions can simply be glued or clipped as an extended part to your hair. Extensions can be of many types but here we will be talking about ponytail extensions. So, without further to do let's have a look at the rest of the details.
What is the Nexa Hair Ponytail Extension?
Nexa hair provides in with the best quality hair extensions which you can barely imagine of. It provides with ponytail extensions that can mix in well with your hair.
You can have immense faith over the texture that is provided by Nexa hair. Both human hair ponytail extension as well as synthetic hair ponytail extensions. Human hair extensions are made out from the real human hair itself and synthetic hair extensions are made out from the synthetics.
The quality purely contains of 'virgin' hair that does not include any chemicals at all.
It takes in a lot of time to make an appropriate ponytail extension therefore Nexa hair does not compromise at all with its quality.
The synthetic extensions of Nexa hair are quite popular because of its texture. Even after washing, it will be back in its shape and form and it is pretty much affordable to get hold of.
What is the benefit of the Nexa Hair Ponytail Extension?
It can help avoid damage to your natural hair. It also adds a volume to your natural hair.
You can freely experiment with the ponytail extension clipped to your natural hair. Your hair can stay out of heat and damage.
It requires very low maintenance as you don't need to regularly spend money on the texture of your ponytail.
If you are facing bad hair days and you cannot decide as to how you make a neat ponytail to work, you can always refer to Nexa hair's ponytail extension. Simple to handle yet giving a perfect look.
It requires no effort to your original hair. You just clip in the ponytail extension and you are all set to go in no time.
How to maintain your ponytail extensions
Usage of sulphate free and alcohol-free shampoo is a must for your ponytail extensions.
The extension does not require daily washing as it does not have any way to get oily. Washing it after 6 months or so can do to keep away all the dirt.
You need to brush each strand very well in order to remove all tangles from the extension.
Do not sleep with your extensions on or else it may damage the quality of the extension.
Even if you want to curl or straighten your extension, make sure you use a heat protectant equipment cause your extension is just as your natural hair.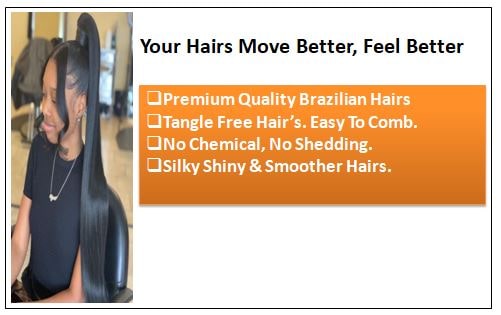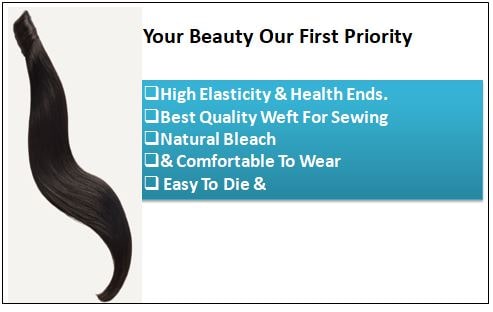 Look Good Feel Good: Black Ponytail Extensions
1. Major Highlights
100% Virgin Hairs
No Shedding & No Tangle
Bouncy Shiny & Soft
Natural and Comfortable
2. Quality Assured
Exquisite Workmanship
Double Weaving Tight/Neat
Cut From Young Girl Donor
Minimum Short Hair
3. Our Hairs
Can be Curled & straight
Can be die/bleach
100% washable
Easy to comb