| | |
| --- | --- |
| Hair Type | Clips in Hair Extension |
| Color | Jet Black |
| Weight | 120gram |
| Extension Type | Clip In Hair Extension |
| Hair Style | Straight( It can be styled easily |
| Number Of Hair Pieces | 9 |
| Can Hair Be Died | Yes Hair Can be Died With Any Color |
| Hair Extension Life | 1 Year |
Clips In Hair Extensions: Design To Make,
Your Look More Beautiful
Clips In Hair Extensions
Clip in Hair Extension is 100% human hair which are easy to apply and a least expensive option. These hair extensions solve the problem of women who are facing the issue of hair fall and thinning of hair. There are high quality clips which are soft and strong which help the scalp from getting damage. The main advantage of this hair extension is that they do not damage your original hair.
Product Description:
Net weight of Hair Extension is 58 gm (50 gm natural hair and 8 gm clips).
These hair extensions are around 14'' inches long.
Clips are already attached to the hair extension which saves a lot of time.
These can be easily attached and removed. There is no hassle of applying tapes and glues in salon.
Product Benefits:
The Clip in Hair Extensions can be washed, dried, colored, re-styled and it causes no damage to your hair.
This Hair Extension last longer as they are made from a very high quality human hair.
It solves the problem of hair loss and hair thinning in just few minutes.
These are money and time friendly.
These Hair Extensions can be dyed from lightcolor to dark color, but it is not possible to dye the dark hair extension to light color.
It is very suitable for daily use. It easily blends with natural hair and looks beautiful.
The clip in Hair Extension gives a natural looks and definitely boosts up the confidence of women.
The Life time of the Hair Extension in mainly 6-12 months but also it depends on the usage and care. So, the life time of clip in hair extension can vary from person to person.
No chemicals are used in this hair. These hairs are natural human hair.
How to maintain the clip in Hair Extensions?
Wash your hair gently with mild use of shampoo.
Use Sulphate free shampoos and conditioners.
Comb your hair before and after use.
Shampoo your hair twice a week and condition them nicely.
Use a comb with broad teeth which helps in removing tangles easily.
Always massage your scalp gently with your fingertips.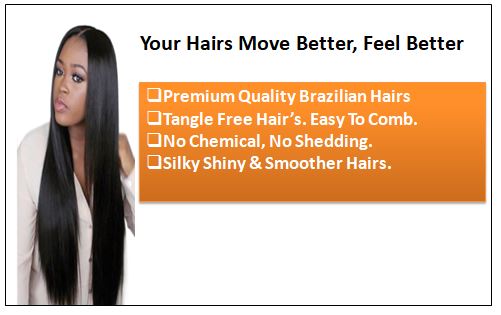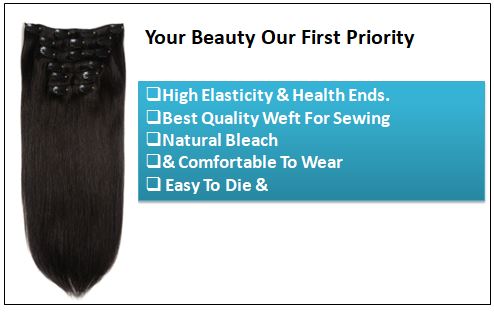 Look Good Feel Good: Clip In Extension
1. Major Highlights     

                     
100% Virgin Hairs
No Shedding & No Tangle
Bouncy Shiny & Soft
Natural and Comfortable
2. Quality Assured 
Exquisite Workmanship
Double Weaving Tight/Neat
Cut From Young Girl Donor
Minimum Short Hair
3. Our Hairs
Can be  Curled & straight
Can be die/bleach
100% washable
Easy to comb