| | |
| --- | --- |
| Hair Type | Foreign Holics Straight Clip in Hair Extensions |
| Color | Jet Black |
| Weight | 120gram |
| Extension Type | Clip In Hair Extension |
| Hair Style | Straight( It can be styled easily |
| Number Of Hair Pieces | 9 |
| Can Hair Be Died | Yes Hair Can be Died With Any Color |
| Hair Extension Life | 1 Year |
Foreign Holics Straight Clip in Hair Extensions.: Design To Make,
Your Look More Beautiful
Foreign Holics Straight Clip in Hair Extensions.
In this hair extension two Wetts means double wetted can be sewed together easily. More hair can be attached in this extension and never fall out, shedding free hair extension. For a customer one pack is enough to cover her full head. It is soft, durable and the clip is strong. It is safe, environment friendly and never harm customer's hands, made with stainless steel and cannot be harmful to the human body. The edges are smooth and emphasizes matte look. At the same time, it ensures beautiful and natural hair.
Product Description
The material is Virgin human hair.
It is suitable for any party and can be used daily purpose.
The clip-on hair extensions are not thick.
For thin hair it is suitable as it added volume and length.
It can change the hairstyle instant and extremely comfortable.
It could last for 12-6 months.
It can be dyed, curled and straightened.
It can change to a glamorous look without harm the natural hair.
This hair extension can remain in customers hair for few hours.
After wearing this hair extension, it looks invisible like real hair.
About the hair extension
It can be wear easily.
It can be easily washed and match with natural hair colour.
The quality of hair is silk.
No pungent smell comes from hair, gives silky hair and natural lustre.
The amount of hair covers the full head and looks thick hair.
How to maintain Straight clip in Hair Extension?
Use hair conditioner with mild shampoo.
Washed it in lukewarm water.
Set it on a towel and dry the hair naturally without using any hair tools.
Do not wear it while sleeping.
After washing do not try to dry or curl the hair as it may damage the hair.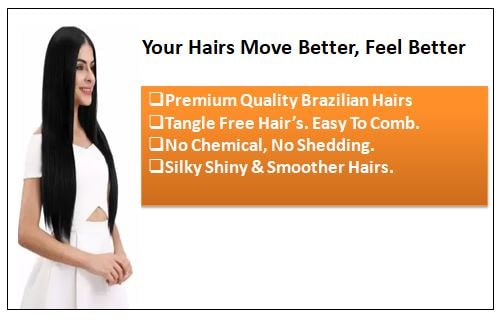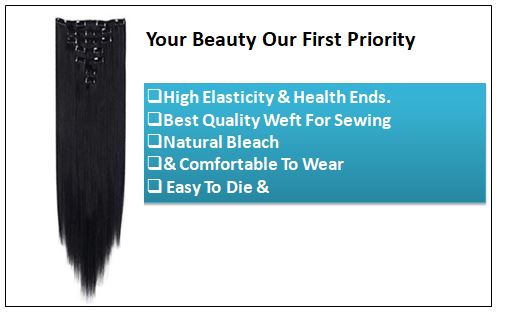 Look Good Feel Good: Clip In Extension
1. Major Highlights     

                     
100% Virgin Hairs
No Shedding & No Tangle
Bouncy Shiny & Soft
Natural and Comfortable
2. Quality Assured 
Exquisite Workmanship
Double Weaving Tight/Neat
Cut From Young Girl Donor
Minimum Short Hair
3. Our Hairs
Can be  Curled & straight
Can be die/bleach
100% washable
Easy to comb