| | |
| --- | --- |
| Hair Type | Braids with Curly Ponytail Black Hair |
| Color | Jet Black |
| Weight | 120gram |
| Extension Type | Ponytail Hair Extensions |
| Hair Style | Braids with Curly( It can be styled easily |
| Number Of Hair Pieces | 9 |
| Can Hair Be Died | Yes Hair Can be Died With Any Color |
| Hair Extension Life | 1 Year |
Braids with Curly Ponytail Black Hair,
Your Look More Beautiful
Ponytails have now a modern trend for every girl. After adding twists and braids with curly ponytail gives a perfect and natural look to every girl. It goes with both long and short hair. The texture of ponytail creates a natural beauty without any fuss.
Curly ponytail is suitable for formal occasion and can work in wedding events also. This is an easy style and time consuming without any difficulties. Curly ponytail sometimes looks traditional also.
What is curly ponytail black hair?
Braids are most popular among girls in all over the world. They like to wear most intricate and beautiful braids. There are various types of braids for black hair. Many women use different hair extensions to make exact braids. But the curly locks are enough to make braids.
The braid is 3 times stronger.
It looks stylish, cute and comfortable.
It is durable and it can hold all types of hair.
What are the benefits of having curly ponytail black hair?
Braids with curly ponytail makes a woman very comfortable they can use it any sports activities.
The women can easily do it without taking any help from others.
Curly ponytails are fantastic hairstyles for small girls also.
These hairstyles keep the hair clean and prevent from any tangling.
It requires only few elastics to make this ponytail.
This are strong elastic and hold the ponytail tightly.
Curly ponytail looks gracious if it decorates with a jewel headband.
How to maintain Ponytail Extension?
Wash hair regularly so that there is no excess oil and dust contain on scalp.
Use mild conditioner and shampoo which is alcohol free.
Excessive shampoo may cause hair breakage.
There is a tendency of curly hair that they can dry easily, therefore always try to moisture the scalp.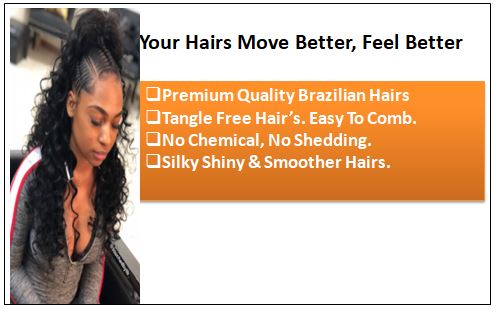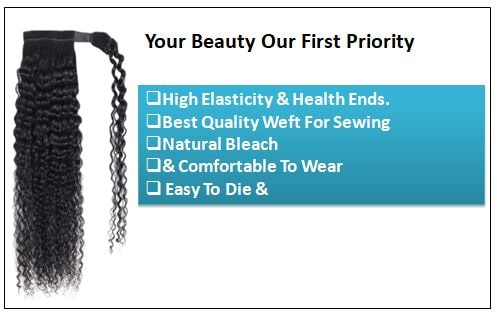 Look Good Feel Good: Braids with Curly Ponytail Black Hair
1. Major Highlights
100% Virgin Hairs
No Shedding & No Tangle
Bouncy Shiny & Soft
Natural and Comfortable
2. Quality Assured
Exquisite Workmanship
Double Weaving Tight/Neat
Cut From Young Girl Donor
Minimum Short Hair
3. Our Hairs
Can be Curled & straight
Can be die/bleach
100% washable
Easy to comb