| | |
| --- | --- |
| Hair Type | Blonde Curly Clip in Hair Extension |
| Color | Blonde |
| Weight | 120gram |
| Extension Type | Clip In Hair Extension |
| Hair Style | Curly ( It can be styled easily |
| Number Of Hair Pieces | 9 |
| Can Hair Be Died | Yes Hair Can be Died With Any Color |
| Hair Extension Life | 1 Year |
Blonde Curly Clip in Hair Extension 100% Natural Virgin Hair: Design To Make,
Your Look More Beautiful
Blonde Curly Clip in Hair Extension 100% Natural Virgin Hair
Blonde Curly Clip in Hair Extension 100% Natural Virgin Hair is made up of natural hairs material and is basically used for curly or wary hair. This is the ongoing fashion hair colour trend it here mixed hair colours are there. If you have slightly thick hair, One piece per clip can be used. One piece contains 5 clips. If you have more thicker hair, 2 pieces per clip can work for you. These clips are heat resistant upto 250-270 degrees. It is able to resist heat to gives different styling shapes. The clip is suitable for silkly, soft and tangle free hair. It adds to length and volume of hair and is suitable for thin, normal and thick hairs. The main quality is that it gets blend with your own hair.
Product Description:
Made from 100% heat resistant fibre and rubber sticken clips.
The quality of blonde curly clip is good, soft, silky, smooth and tangle free.
The hair can be washed, styled and straightened ironed.
It is approximately 22 inches long and 9 inches broad.
Weight of blonde curly hair is 150-180 gm.
Procedure to apply the Blonde Curly Hair Extensions:
Firstly, divide the hair into 2 parts. Use a comb to make lower half of your hair in one inch section. This helps in making extensions surely in place.
Place the top of the hair extensions with the horizontal part and then put the clips in place.
Then, remove your hand from the top section of your hair. Blend the natural hair with the clip on extension.
After making the hairstyle, brush the top layer of the hair, so that it looks smooth and soft.
Your clip in extension should be tied properly so that they are not visible and the hairs are tied tightly.
 Maintenance of the Blonde Curly Hair Clip Extension:
Use a brush with soft bristles to comb your hair.
Do not use extremely hot water for head wash as it shortens the life span of hair extensions. Instead, use lukewarm water.
Use a natural shampoo i.e. without chemicals. Deep conditioning if needed.
These clips are generally easily affordable.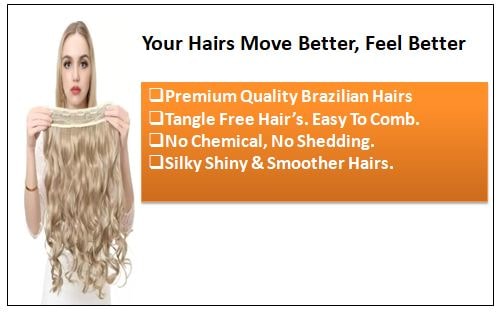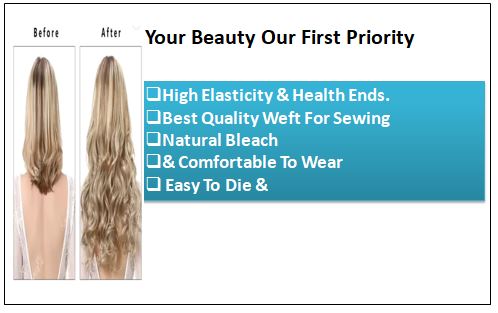 Look Good Feel Good: Clip In Extension
1. Major Highlights     

                     
100% Virgin Hairs
No Shedding & No Tangle
Bouncy Shiny & Soft
Natural and Comfortable
2. Quality Assured 
Exquisite Workmanship
Double Weaving Tight/Neat
Cut From Young Girl Donor
Minimum Short Hair
3. Our Hairs
Can be  Curled & straight
Can be die/bleach
100% washable
Easy to comb