| | |
| --- | --- |
| Hair Type | 613 Color Human Hair Dreadlock Extensions Long Dreadlocks |
| Color | 613 Color |
| Weight | 150gram |
| Extension Type | Dreadlock Extensions |
| Number Of Hair Pieces | 9 |
| Can Hair Be Died | Yes Hair Can be Died With Any Color |
| Hair Extension Life | 1 Year |
613 Color Human Hair Dreadlock Extensions Long Dreadlocks: Design To Make,
Your Look More Beautiful
613 Color Human Hair Dreadlock Extensions Long Dreadlocks
613 Color Human Hair Dreadlock Extension is handmade, and locks are made with human hair. The dreadlock extensions look like aged and matured. The dreadlocks look like natural grown locks.
These locks can be added to existing locks and can be repaired for the broken locks. Every lock is unique and handmade. The dreadlock extensions have made with different lengths. The dreadlock extension can be added for any hair type. There have different methods to install lock extensions. YouTube is the best platform to learn how to install dreadlock extensions. It gives a completelydifferent look on face. It goes with western as well as ethnic wear.
Product Information
100 percent Human hair
The origin of this material is Brazilian Hair
It is handmade and can be sewed by the workers who has experience of 6 years.
It is soft and silky feels like own hair after touching it
All physical process could be done like ironing, washing without using any chemical material
Why purchase the 613 color human hair dreadlock extension long dreadlocks?
It creates natural and beautiful African American style.
Best to use and can be used for wig making.
For customer convenience it has brushed out already.
The length of hair can be measured after straightly stretched.
How to maintain your hair dreadlock extension long dreadlocks?
At first week do not wash the hair. The dreadlocks of the hair are super delicate in first week after it have been made. After washing at this point it could loosen the hair. Put a big shower cap during shower in that first week.
While washing dreadlocks always use residue free shampoo. The hair can be washed between 2 to 3 times in a week after the first week. The advantages of using residue free shampoo, normal shampoo lubricate the hair and it could loosen the dreadlocks.
Dreadlocks should be completely dry after washing the hair. The wet hair makes it stinky.
Palm rolling and Regular Waxing is good for dreadlocks.
Dreadlocks can be loosened, apply palm roll and dread wax to tighten it.
It better to use every week to prevent the dreadlocks loosen.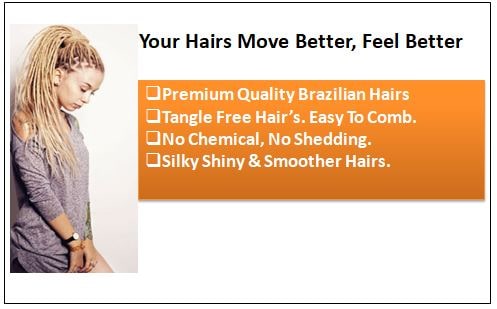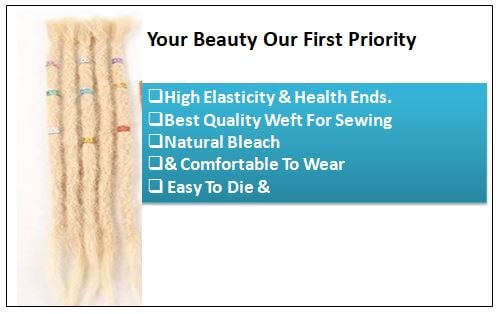 Look Good Feel Good: Dreadlock Extensions
1. Major Highlights
100% Virgin Hairs
No Shedding & No Tangle
Bouncy Shiny & Soft
Natural and Comfortable
2. Quality Assured
Exquisite Workmanship
Double Weaving Tight/Neat
Cut From Young Girl Donor
Minimum Short Hair
3. Our Hairs
Can be Curled & straight
Can be die/bleach
100% washable
Easy to comb