| | |
| --- | --- |
| Hair Type | 10 Inch Ponytail Human Hair Extension |
| Color | Jet Black |
| Weight | 120gram |
| Extension Type | Ponytail Hair Extension |
| Hair Style | Straight( It can be styled easily |
| Number Of Hair Pieces | 9 |
| Can Hair Be Died | Yes Hair Can be Died With Any Color |
| Hair Extension Life | 1 Year |
10 Inch Ponytail Human Hair Extension-Nexahair Best Ponytail Hair Extension,Your Look More Beautiful
10 Inch Ponytail Human Hair Extension-Nexahair Best Ponytail Hair Extension with no shedding, tangles or artificial smell. They are naturally weaved and are unprocessed from synthetic chemicals.
10 inch ponytail can be styled with any outfit and gives you an elegant look.
Extensions can be of many types but here we will be talking about ponytail extensions. So, without further to do let's have a look at the rest of the details.
What is Nexa Hair Ponytail Extension?
Nexa hair provides you with the best quality hair extensions. It provides you with ponytail extensions that can mix in well with your hair.
You can have immense faith over the texture that is provided by Nexa hair.
It is made from 100% virgin hair providing you pure quality.
These extension gives you soft, shinny, lustrous, texture to hair and 100% cuticle lined also healthy bouncy with high elasticity.
Length – 10 inch
Texture- straight , curly
Color-available in range of colors.
What are the benefits of Nexa 10 Inch Ponytail Extension?
It can help avoid damage to your natural hair. It also adds a volume to your natural hair.
You can freely experiment with the ponytail extension clipped to your natural hair. It requires minimum maintenance.
It protects your hair from heat damage.
It is protected from lice and other hair infection.
It requires no effort to your original hair. You just clip in the ponytail extension and you are all set to go in no time.
Tips to Maintain Your Ponytail Extension
Avoid using sulfate free shampoo and conditioner.
Wash your hair 2-3 times a week, avoid washing it regularly.
Give it a gentle oil massage once in a month.
Even if you want to curl or straighten your extension, make sure you use heat protectant equipment.
Brush them well to avoid tangles.
Do not sleep with your extensions on or else it may damage the quality of the extension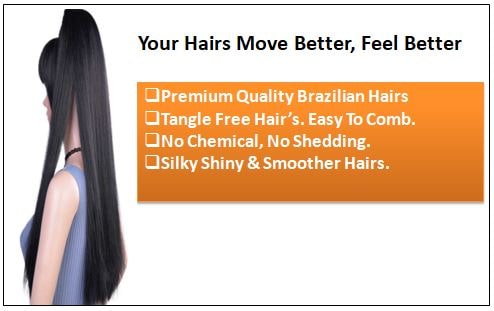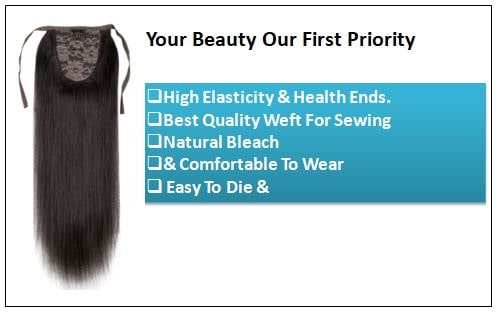 Look Good Feel Good: Ponytail Human Hair Extension
1. Major Highlights
100% Virgin Hairs
No Shedding & No Tangle
Bouncy Shiny & Soft
Natural and Comfortable
2. Quality Assured
Exquisite Workmanship
Double Weaving Tight/Neat
Cut From Young Girl Donor
Minimum Short Hair
3. Our Hairs
Can be Curled & straight
Can be die/bleach
100% washable
Easy to comb