Yellow Best Pre Plucked Full Lace Wigs Straight Human Hair
| Product Name | Yellow Best Pre Plucked Full Lace Wigs Straight Human Hair |
| --- | --- |
| Hair Color | Yellow |
| Hair Length | 8-30 Inches |
| Hair Texture/Style | Straight-Single Drawn |
| Hair Type | Yellow Best Pre Plucked Full Lace Wigs Straight Human Hair |
| Hair Weight | 150 Gram/Piece |
| Unit | 3 Units |
| Hair Weft Type | Machine Weft |
| Shipping Time | 5-7 Working Days |
| Can Be Dyed | Yes Hair Can Be Dyed |
| Remy Hair | Nexa Hair offers top most quality of Remy Hair. These hairs are very silky,softer & shiny in nature. All cuticles are in same direction which makes them very long lasting. Our hair gives you natural look. It can be easily cut,curled or straightened just like your natural hairs. Along with this Nexa Hair also gives 100% guarantee that hair will not get tangled in water |
| Human Hair | All of our products Hair Extensions, Weft,Wigs,Bulk etc. are made from 100% natural human hair. Our aim is to give natural look to your hairs. Synthetic hair can't replica of your real hairs and its been verify difficult to handle them. This is the main reason we are providing natural human hairs. |
| Why Us | Nexa Hair is been well established company since 1996. We are very well known hair company of superior quality of hairs. Our products are highly appreciated among our clients for their natural look, tangle free, smooth texture, excellent finish, light weight and easily washable. |
Yellow Best Pre Plucked Full Lace Wigs Straight Human Hair: Design To Make,
YOU ARE ADORABLE!
             Yellow Best Pre Plucked Full Lace Wigs Straight Human Hair
Yellow Best Pre Plucked Full Lace Wigs Straight Human Hair.These wigs give most natural looking. There are several types of human hair. Indian hair specifies soft hair texture and become popular. It is less expensive also. It gives real appearance on face. The wig can be parted in multiple ways.
Product Information
The material is 100% human hair, it has collected from health donor.
No chemicals have used while making this texture.
There are no tangles, shedding and Lice free.
The hair texture is soft and thick.
It can be highlight, restyled, Dyed, straightened and curled.
It has pre-plucked original hairline,and the density of hair is 150%.
It designs look like natural human scalp.
Customers can adjust straps size freely based on their choice.
The length of Medium cap size is about 22.5 inch.
Why purchase Yellow Full lace wigs?
Yellow hair color looks sexy and more charming and the length of hair are available in several sizes like 14, 12 and 10 inch according to customer's choice.
Customers can part the hair freely.
It looks like that the hair is growing from scalp.
The net weight of this Wigs is 130-200g.
It is comfortable to wear.
It can be wear and removed easily.
After wearing it gives full exotic vibe and the hair wig are also available on the length of customer's own hair.
There is no need to worry about safety.
How to maintain Full lace Wigs?
Before cleaning the wigs, comb gently and remove all tangles.
Use wide combs, apply spray conditioner which help to loosen them.
The amount of shampoo is small if the length of wig is short and clean it with warm water.
Always dry the wigs with hair dryer.
Use hair spray which are designed specifically for human hair.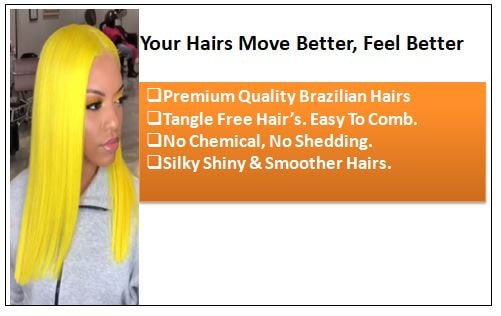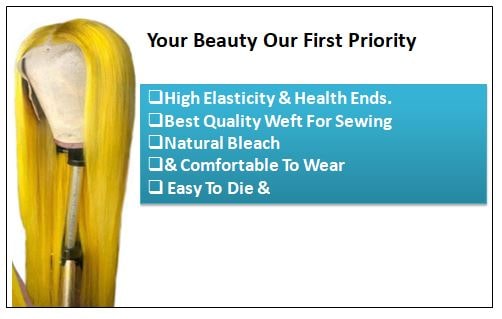 Look Good Feel Good: Best Pre Plucked Full Lace Wigs
1. Major Highlights
100% Virgin Hairs
No Shedding & No Tangle
Bouncy Shiny & Soft
Natural and Comfortable
2. Quality Assured
Exquisite Workmanship
Double Weaving Tight/Neat
Cut From Young Girl Donor
Minimum Short Hair
3. Our Hairs
Can be Curled & straight
Can be die/bleach
100% washable
Easy to comb