| | |
| --- | --- |
| Hair Type | Synthetic Dreadlocks Hairstyles For Men/Women Dread Extensions Color 24# |
| Color | 24# |
| Weight | 150gram |
| Extension Type | Dreadlock Extensions |
| Number Of Hair Pieces | 9 |
| Can Hair Be Died | Yes Hair Can be Died With Any Color |
| Hair Extension Life | 1 Year |
Synthetic Dreadlocks Hairstyles For Men/Women Dread Extensions Color 24#: Design To Make,
Your Look More Beautiful
Synthetic Dreadlocks Hairstyles For Men/Women Dread Extensions Color 24#
Compare to other hairstyles Dreadlocks have been underling but nowadays it gains some popularity in society also. There are different reasons why people wear dreads, it gives a fashion statement for those who like to wear dreads.
Wearing dreadlocks specify cool attitude and it becamean alternative for those Women who want to change in their natural hair these dreads is suitable for them. Natural dreadlocks needed maintenance, lot of efforts and time consuming also. These Synthetic dreadlocks is best to wear and trendy in the market.
Product Information
100 percent smooth and soft hair extensions.
Competitive price, very strong and good flexibility.
It is easy to attach.
It can be washable, the quality is high, tangle free and soft silky.
Comb hair hardly to prevent hair fall.
It covers full head and made with high temperature fibre.
Why purchase Synthetic Dreadlocks Hairstyles?
Generally, synthetic dreadlock extension lasts for 6-12 weeks.
Synthetic dreadlock extensions give seamless look and it give a complete real look with excellent value.
While wearing these dreads, it always feels lightweight and most affordable also.
It gives stunning look.
While wearing these synthetic dreadlocks every person feels something different.
After buying the dreadlocks sometimes it comes little bend but there is nothing to worry about.
It is soft, delicate and user friendly.
Most often, some people wear permanent synthetic dreadlock extensions to maintain durability and it last for 7 years.
How to maintain women Dread extensions?
Firstly, it required to keep the scalp clean otherwise the hair will be stinking.
It required to clean dreadlocks once in a week.
Always use sulphate-free shampoo to avoid the dryness of hair.
It is easy for black people to have smooth dreads because of their original texture of hair.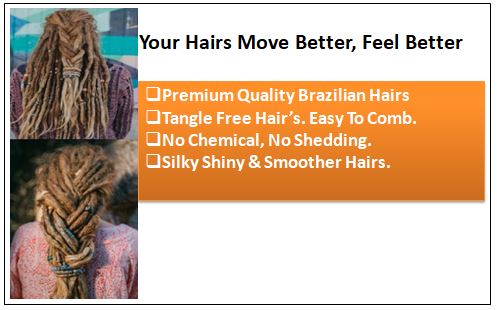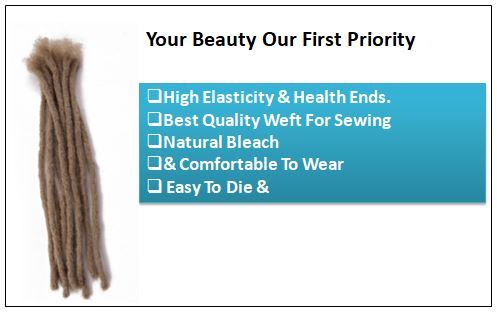 Look Good Feel Good: Synthetic Dreadlocks Hairstyles
1. Major Highlights
100% Virgin Hairs
No Shedding & No Tangle
Bouncy Shiny & Soft
Natural and Comfortable
2. Quality Assured
Exquisite Workmanship
Double Weaving Tight/Neat
Cut From Young Girl Donor
Minimum Short Hair
3. Our Hairs
Can be Curled & straight
Can be die/bleach
100% washable
Easy to comb