Red Afro wig-kinky curly
| Product Name | Red Afro wig-kinky curly 150% density 100% human hair |
| --- | --- |
| Hair Color | Red |
| Hair Length | 10-12 Inches |
| Hair Texture/Style | kinky curly -Single Drawn |
| Hair Type | Red Afro wig-kinky curly 150% density 100% human hair |
| Wig Size | Average 21.5~22 Inch (Adjustable) |
| Hair Weft | Double Weft Bundle |
| Hair Quality | Premium Quality Hair |
| Shipping Time | 5-7 Working Days |
| Can Be Dyed | Yes Hair Can Be Dyed |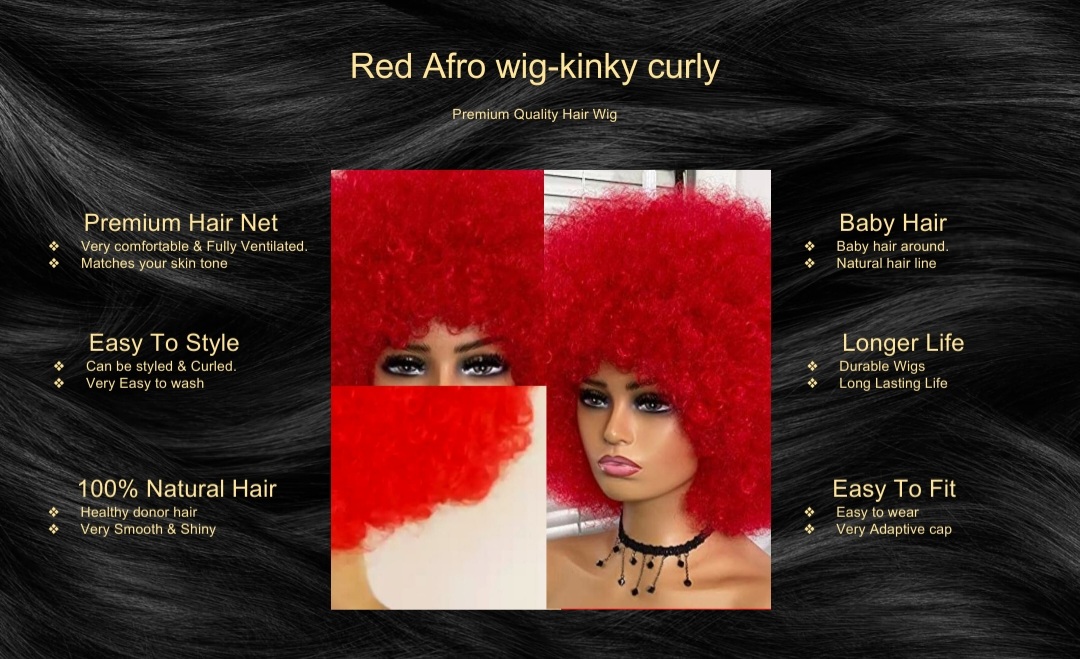 PERFECT SIZE WITH PERFECT LOOK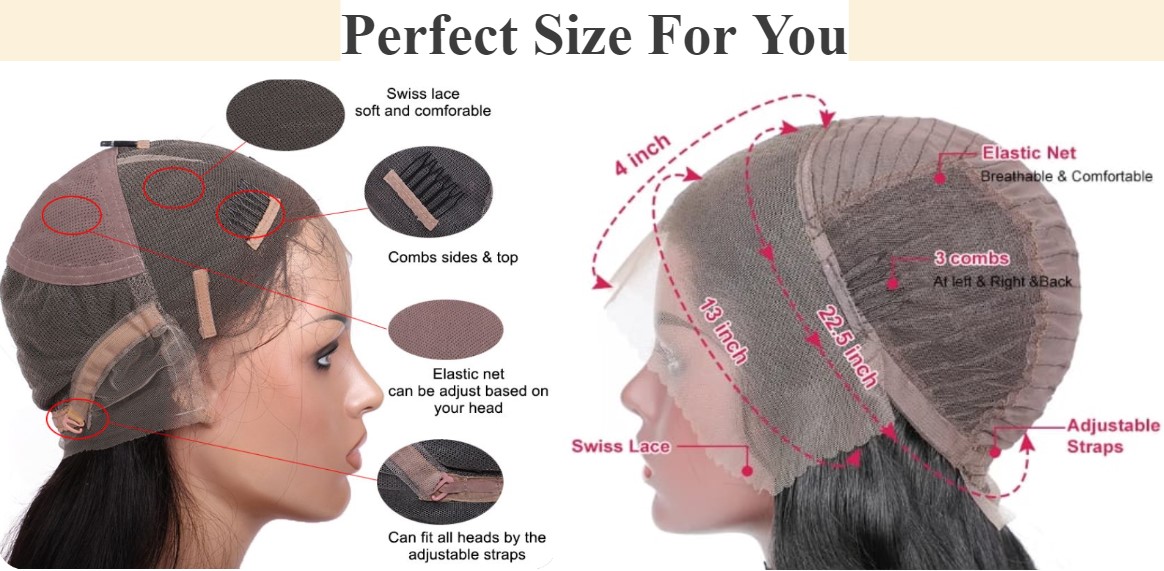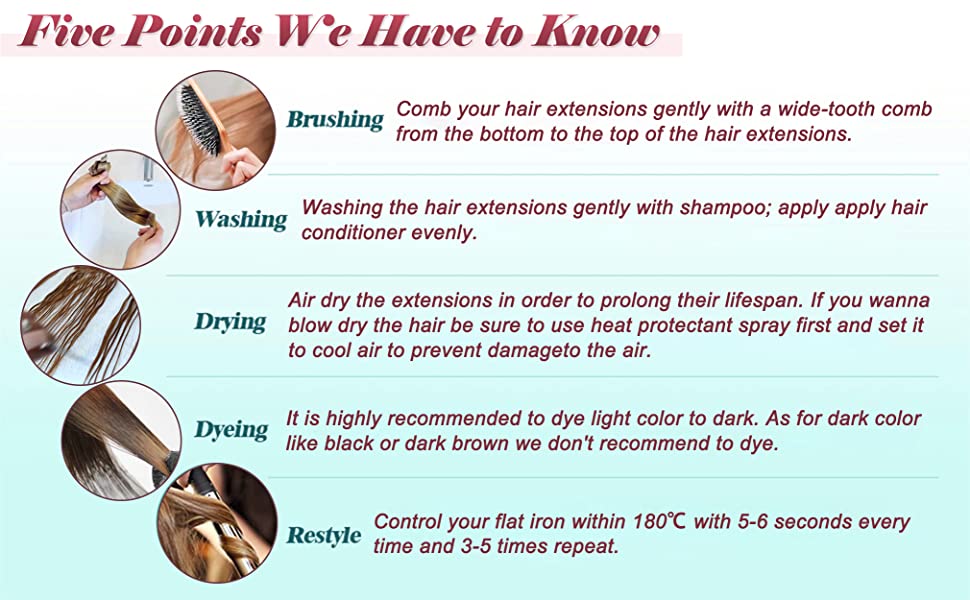 Nexahair is the best place to find hair extensions that are both high-quality and affordable.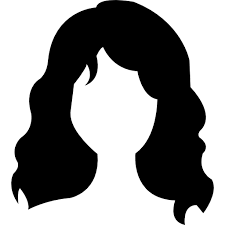 Nexahair made of 100% human hair and can be worn everywhere.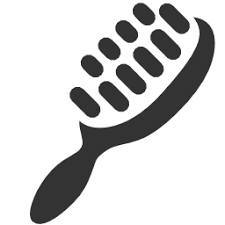 Nexahair is easier to maintain than other types of hair extensions;.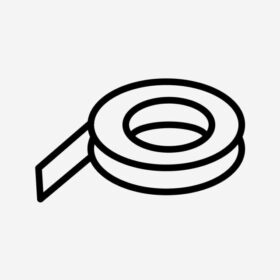 Nexahair patented slip-proof design makes them easy to use .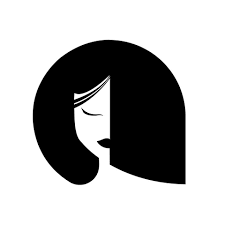 Nexahair is the perfect solution for instant volume and length.

Nexahair extensions are made with high-quality materials and last longer than any other extension.
Red afro kinky curly wig 100% virgin human hair 150% density 12 inches.
The Red Afro Kinky Curly Wig is a high-quality hairpiece made with 100% virgin human hair, which means the hair has not been chemically processed or treated. This ensures that the hair is soft, natural-looking, and durable. The wig has a 150% hair density, which means it is full and voluminous, giving you a natural and glamorous look. The hair length is 12 inches, which is a great length for those who want a shorter hairstyle. The hairline of the wig is pre-plucked and comes with baby hairs, making it look more natural and realistic. The wig is styled in an Afro Kinky Curly texture, which is perfect for those who want a bold and statement-making hairstyle. Overall, this wig is a great choice for anyone looking for a high-quality, natural-looking, and bold hairpiece.
Made with 100% virgin human hair

150% density for a full and voluminous look

12 inches in length

Hairline is pre-plucked for a natural look

Baby hairs are included for added realism and styling options

Perfect for those who want a bold and vibrant look

Can be styled and heat-treated like natural hair

High-quality construction ensures durability and longevity of the wig.
Why to purchase a red afro kinky curly wig 100% virgin human hair 150% density 12 inches?
A red afro kinky curly wig made with 100% virgin human hair, 150% density, and 12 inches in length is an excellent choice for those who want to make a bold fashion statement. The wig's vibrant color and voluminous texture will undoubtedly turn heads, making it perfect for themed events, costume parties, or everyday wear for those who love to stand out. The wig is pre-plucked with baby hairs, ensuring a natural-looking hairline and added styling options. With the ability to style and heat-treat the wig like natural hair, it offers versatility and convenience. Additionally, this high-quality wig's durability and longevity make it a worthwhile investment for anyone looking to add a fun and unique touch to their style.
How to maintain and take care of red colored wig and extensions.
Gently brush or comb your wig to avoid tangling and damage.

Wash your wig or extensions regularly with a shampoo and conditioner formulated for synthetic hair.

Avoid exposing your wig or extensions to high heat, including direct sunlight, hot water, and styling tools.

Store your wig or extensions on a wig stand or mannequin head to maintain their shape.

Use products specifically designed for synthetic hair, including styling products and detanglers.

Avoid rubbing or wringing your wig or extensions when washing or drying them.

Be cautious when using hair accessories or styling tools, as they may cause damage to the fibers.

Consider professional cleaning or maintenance services to help prolong the life of your wig.