| | |
| --- | --- |
| Hair Type | Black Clip in Hair Extension |
| Color | Black |
| Weight | 120gram |
| Extension Type | Clip In Hair Extension |
| Hair Style | Straight( It can be styled easily |
| Number Of Hair Pieces | 9 |
| Can Hair Be Died | Yes Hair Can be Died With Any Color |
| Hair Extension Life | 1 Year |
Black Clip in Hair Extension 100% Virgin Hair Extension: Design To Make,
Your Look More Beautiful
Black Clip in Hair Extension 100% Virgin Hair Extension
Black Clip in Hair Extension 100% Virgin Hair Extension is prepared from 100% virgin human hair easy to attack. These hairs are very comfortable to wear and gives natural look. The hair is easily attachable by using clips. It prevents the hassles of using glues and tapes and going to salon every now and then. This kind of hair is suitable for normal to medium thick hair and no split ends are there. These are good quality hair which is gathered from reads of young donors.
Product Description:
Black clips in hair extension weigh 180 gm and are 18 inches long.
Normally, life span of these clip in hair extension are 5-12 months, but it completely depends on the usage and care. The life span of these hairs keeps varying. It's totally upto an individual's maintenance.
Specifications of the clip:
1'8'' with 4 clips
2'6'' with 2 clips
2'4'' with 2 clips
The clips are made of highest quality material. These clips are covered with silicon which protects the scalp from getting damage.
The hair can be easily curled, trimmed, straightened, washed, dyed.
Benefits to Consumers:
These hair are very light weight.
You can make the kind of hairstyle you desire, it can be braids, ponytails etc.
The temperature suitable for the black clip in hair extensions is under 200 degrees.
Easy to afford, these hair are free from tangles and shedding.
The hairs are having thick ends and it automatically reduces the problem of hair loss.
Women who are struggling with the problem of thin hair and severe hair fall, black clip in hair extension can be best solution to their problem.
How to maintain Black Clip in Hair Extension?
Always shampoo your hair with warm water.
Use a chemical and sulphate free shampoo and conditioner to protect your hair from getting damaged.
Always use a hydrating conditioner.
Use a brush instead of a comb to comb your hair.
Brush your hair end first, then the middle and the top of the hair at last.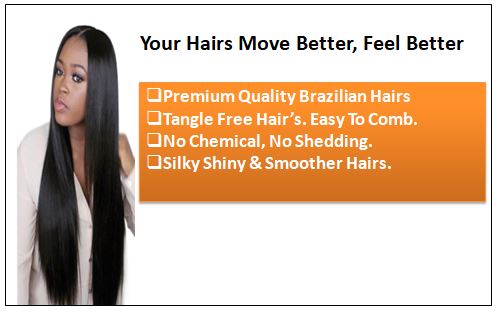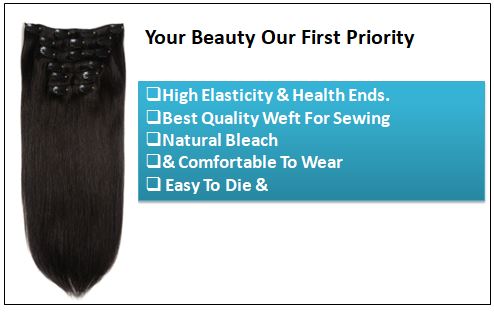 Look Good Feel Good: Clip In Extension
1. Major Highlights     

                     
100% Virgin Hairs
No Shedding & No Tangle
Bouncy Shiny & Soft
Natural and Comfortable
2. Quality Assured 
Exquisite Workmanship
Double Weaving Tight/Neat
Cut From Young Girl Donor
Minimum Short Hair
3. Our Hairs
Can be  Curled & straight
Can be die/bleach
100% washable
Easy to comb