| | |
| --- | --- |
| Hair Type | 99j Burgundy Color Synthetic Dreadlocks Extensions Handmade |
| Color | 99j Burgundy |
| Weight | 150gram |
| Extension Type | Dreadlock Extensions |
| Number Of Hair Pieces | 9 |
| Can Hair Be Died | Yes Hair Can be Died With Any Color |
| Hair Extension Life | 1 Year |
99j Burgundy Color Synthetic Dreadlocks Extensions Handmade: Design To Make,
Your Look More Beautiful
99j Burgundy Color Synthetic Dreadlocks Extensions Handmade
99j Burgundy Color Synthetic Dreadlocks Extensions Handmade.These dreadlock extensions can transform the beauty of adding these length and volume in few minutes without any hassle. These high-quality dreadlocks enhance original look and can be treated like natural hair. It is comfortable to wear and secure to grip.
The quality depends on how the customer takes care of it. Improper conditioners and shampoo can damage dreadlocks. After colored it gives instant results.  It lasts for 6-12 months but it depends on care, wear and quality. The customer also loved this hair as per customer review it blends well, shiny, super soft and easy to manage.
Product Information
Color of the product is 99j red wine Burgundy.
The length of the hair is 20 inches approximately/50 cm hair.
The weight of the dreadlocks is 70 grams which include clips and hair extensions.
The type of color available is #02 dark brown-hair life.
It is perfectly suitable for thick or thin hair ladies.
For longer and fuller hair 2 to 75 packs are required.
It is perfectly suitable special occasions like birthday party.
It is silky, straight and automatically turn to natural wave when the hair is wet.
Why purchase Synthetic Dreadlocks Extensions?
The material is 100 percent Kanekalon Synthetic Dreadlock extension.
The length is 20 inch, 7g/ strand and the shade of the color is 99j/Dark Burgundy and the width is about 0.7 cm.
For covering full head 40-45 strands are needed.
It is fashionable, adequate quality, Natural and light weight.
How to maintain synthetic dreadlock extensions?
Make the shampoo into foam as it is easier to rinse the dreadlocks.
Always message the scalp gently with fingertips, do not use fingernails.
Squeeze water gently with an absorbent towel.
Apply foam for cleaning the dreadlocks.
Always use absorbent towel for wrapping the dreadlocks and dry with hair dryer.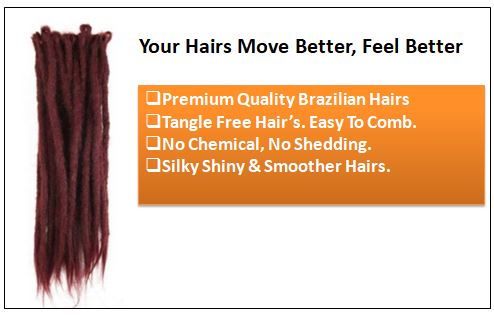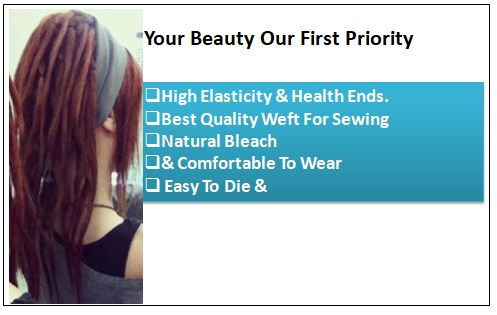 Look Good Feel Good: Synthetic Dreadlocks Extensions
1. Major Highlights
100% Virgin Hairs
No Shedding & No Tangle
Bouncy Shiny & Soft
Natural and Comfortable
2. Quality Assured
Exquisite Workmanship
Double Weaving Tight/Neat
Cut From Young Girl Donor
Minimum Short Hair
3. Our Hairs
Can be Curled & straight
Can be die/bleach
100% washable
Easy to comb