3 Bundles Virgin Straight Hair Best Virgin Human Hair Extensions
| Product Name | 3 Bundles Virgin Straight Hair Best Virgin Human Hair Extensions |
| --- | --- |
| Hair Color | Natural Black/#1B |
| Hair Length | 8-30 Inches |
| Hair Texture/Style | Straight-Single Drawn |
| Hair Type | 3 Bundles Virgin Straight Hair Best Virgin Human Hair Extensions |
| Hair Weight | 100-110 Gram/Piece |
| Unit | 3 Units |
| Hair Weft Type | Machine Weft |
| Shipping Time | 5-7 Working Days |
| Can Be Dyed | Yes Hair Can Be Dyed |
| Remy Hair | Nexa Hair offers top most quality of Remy Hair. These hairs are very silky,softer & shiny in nature. All cuticles are in same direction which makes them very long lasting. Our hair gives you natural look. It can be easily cut,curled or straightened just like your natural hairs. Along with this Nexa Hair also gives 100% guarantee that hair will not get tangled in water |
| Human Hair | All of our products Hair Extensions, Weft,Wigs,Bulk etc. are made from 100% natural human hair. Our aim is to give natural look to your hairs. Synthetic hair can't replica of your real hairs and its been verify difficult to handle them. This is the main reason we are providing natural human hairs. |
| Why Us | Nexa Hair is been well established company since 1996. We are very well known hair company of superior quality of hairs. Our products are highly appreciated among our clients for their natural look, tangle free, smooth texture, excellent finish, light weight and easily washable. |
3 Bundles Virgin Straight Hair Best Virgin Human Hair Extensions: Design To Make,
Your Look More Beautiful
3 Bundles Virgin Straight Hair Best Virgin Human Hair Extensions is obtained naturally, without the involvement of any chemicals. It is purely raw and unprocessed human hair. And mostly popular for its pure natural color and shine. Straight hair are usually very wispy and thick. In Straight Hair Bundles, the cuticles are absolutely straight,intact and travels in one direction.
Straight Hair Bundles can be classified into 4 types:-
Why will you choose Straight Hair?
Firstly, straight hair has a natural color along with its silky, smooth texture gives you an absolute natural look.
Secondly, the hair blends perfectly with any kind of looks.
Very soft, shimmery and light.
Its quality is considered to be the finest of all.
It's very easy to maintain.
Product Features:-
Straight Hair comes in 100% natural black color and can be dyed, colored, bleached, and styled accordingly.
It has a high volume and is bouncy. Each bundle is very thick and strong. No shedding and tangle-free.
It's very light weight (95-105g/bundle)
Available in all sizes from 8-30 inches.
Straight hair bundles are double machine weft.
How to maintain?
Always use moderate water to wash straight hair.
Say a big 'NO' to shampoo containing sulfates. Apply gentle and mild shampoo and conditioners.
Shampoo your hair at least 2-3 times a week.
Dry your hair using a soft towel after washing.
Avoid using lacquers or any kind of hair sprays because it will make your hair look sticky.
In case of tangles,remove them gently either with your fingers or by using a wide teeth comb.
Tie and cover your hair with a satin cloth before going to bed.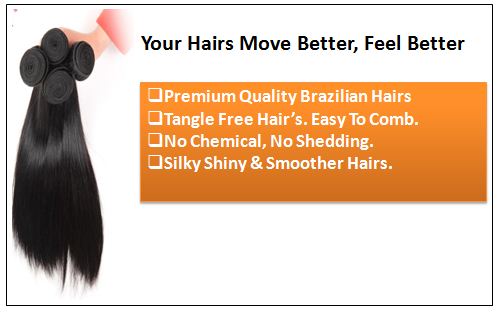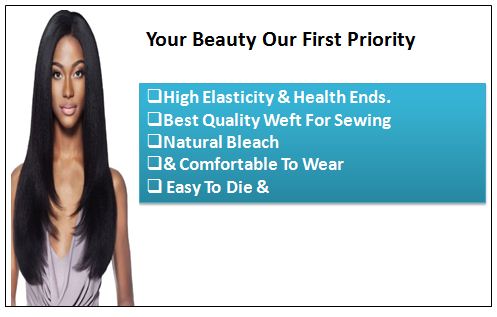 Look Good Feel Good: 3 Bundles Virgin Straight Hair
1. Major Highlights
100% Virgin Hairs
No Shedding & No Tangle
Bouncy Shiny & Soft
Natural and Comfortable
2. Quality Assured
Exquisite Workmanship
Double Weaving Tight/Neat
Cut From Young Girl Donor
Minimum Short Hair
3. Our Hairs
Can be Curled & straight
Can be die/bleach
100% washable
Easy to comb